Exoplanet Watch is a NASA citizen science project that lets anyone and everyone learn about planets that orbit stars beyond our solar system and get involved in observing them.
You can study exoplanets! With the help of backyard telescopes, you can make observations of transiting exoplanets and process the observations with free computer software called EXOTIC to make your own exoplanet transit light curves like the one shown below. These light curves show the change in brightness of a star when a planet passes in front of it, revealing the size of the exoplanet as well as how long its year is, which is related to how hot the planet is, and even whether it has the potential for having liquid water on its surface.
Although exoplanets are too dim to be seen directly, they cause a very small change in brightness to the stars they orbit as they pass in front of, or transit, their star.
If you have a backyard telescope, we can teach you how to use it to observe exoplanet transits and make your own light curves.
Whether or not you have your own telescope, you can use our data checkout system to request an archived observation of an exoplanet transit, and process the observation to create your own light curve.
Your participation in Exoplanet Watch can directly impact the observations made by the James Webb Space Telescope by helping professional astronomers know when to schedule their observing time.
Once an exoplanet is discovered, it needs to be observed again to know how often it passes in front of its star, and when future transits will occur.
By observing exoplanets with small telescopes, you can play an active role in learning about distant worlds and helping professional astronomers use large telescopes more efficiently. Thousands of exoplanets have been discovered since the mid-1990's, and you can study many of them. You can even help discover new exoplanets that nobody has ever seen before!
If your work is included in a scientific paper, you will be listed as a co-author on the paper.
As of early December 2022, Exoplanet Watch participants have studied over 260 different exoplanets, and created more than 1260 light curves. Come join us in studying distant worlds.
You Can Help NASA Observe Other Worlds!
When you look up into the night sky, do you wonder what's out there beyond our solar system? So do we! Come join us in learning more about exoplanets, the worlds that orbit distant stars.
You don't have to be a rocket scientist or an astrophysicist to actively participate in studying distant worlds. We'll teach you what you need to know to become a citizen scientist collecting important data on exoplanets, and you don't even need to have your own telescope.
NASA's citizen science projects welcome members of the public to work with NASA data, your own observations of the night sky, or both. Through collaborations with NASA scientists, volunteers (known as citizen scientists) from across the United States and around the world have helped make thousands of important scientific discoveries. By participating in Exoplanet Watch, you can work with NASA on exoplanet science and learn more about the process of doing science. You don't have to be a professional scientist to participate. Everyone is welcome!
You might even discover new exoplanets!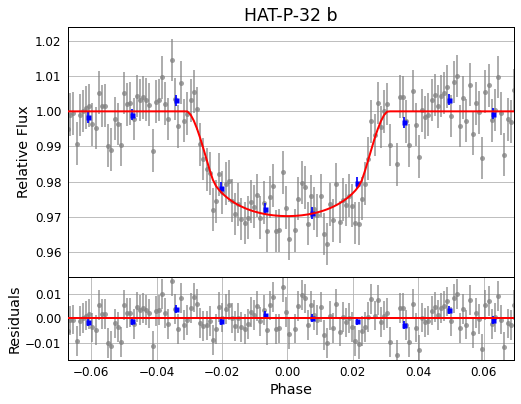 The graph above shows the relative flux (change in brightness) of a star when an exoplanet passes in front of it. This dimming of the star's light is too small to see with our eyes, but when we have a computer compare a star's brighness over time, it can detect the 1% change in brightness during the exoplanet's transit.
Hot Jupiters are very large exoplanets with very short years. They orbit very close to their stars, so they are very hot. This graph is a sample light curve of the transiting hot Jupiter exoplanet HAT-P-32 b as observed with a 6-inch (15.24-cm) MicroObservatory telescope located in Tucson, Arizona. A transiting exoplanet periodically passes in front of its host star as it orbits, causing the star to appear more dim (and effectively casting a tiny shadow on the Earth!). The amount of light blocked by the planet tells astronomers the size of the planet relative to its host star. The shape of the light curve reveals whether or not the exoplanet has an atmosphere. A single 6-inch telescope can be used to make transit observations (Zellem et al. 2020). The more exoplanets we can study, the more we can contribute to the global body of knowledge about planets beyond our solar system. This opens the community of backyard astronomers and astrophotographers to be able to actively participate in exoplanet science.
Exoplanet Watch lets you turn a series of photographs of a star during an exoplanet transit into a light curve like the one shown above, using free sofrware called EXOTIC. Light curves help astronomers learn more about exoplanets. As a citizen scientist, you can learn about exoplanets and study them, too.
By studying exoplanets, you can help answer NASA's three big science questions about the universe:

How does the universe work?

How did we get here?

Are we alone?
---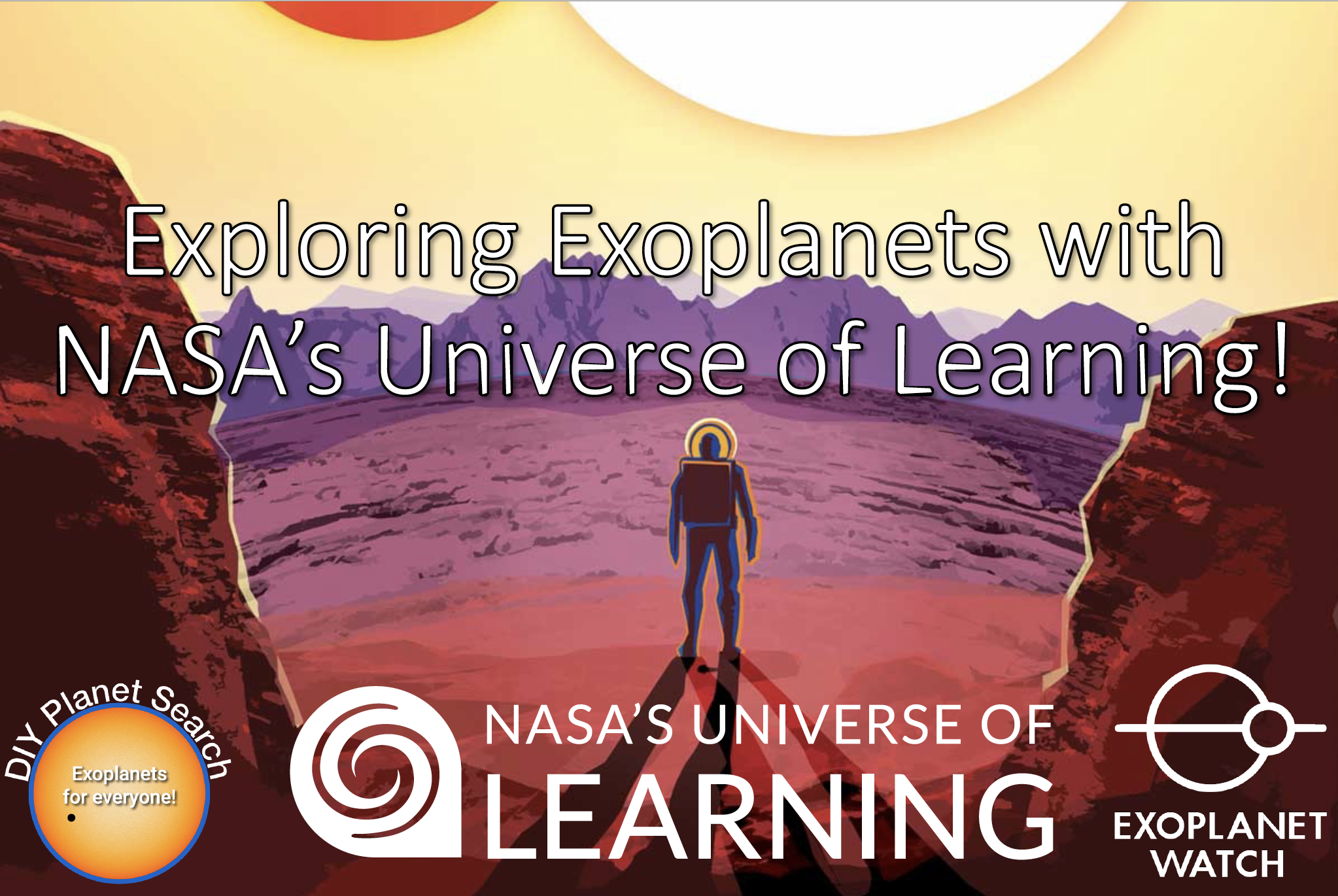 Register Now: Exploring Exoplanets with NASA's Universe of Learning!
NASA's Universe of Learning is presenting a series of free webinars open to all educators, and those interested in sharing with others the exciting world of exoplanet discoveries!
Session 1: How to Explore Exoplanets - Wednesday, November 9, 2022 at 1pm Pacific / 4pm Eastern. In this session, you'll get an overview of exoplanet science from Juliana Garcia-Mejía, researcher at the Center for Astrophysics | Harvard & Smithsonian, and find out about a variety of online and hands-on activities for learning about worlds beyond the Solar System.
Session 2: How to Participate in Exoplanet Science - Wednesday, December 14, 2022 at 1pm Pacific / 4pm Eastern. In this session, you'll learn about DIY Planet Search, an online laboratory for using the MicroObservatory robotic telescope network to gather real data about alien worlds using the transit method. You'll hear from educators about how they've used DIY Planet Search in a variety of settings.
Session 3: How to Contribute to Exoplanet Science - Wednesday, January 18, 2023 at 1pm Pacific / 4pm Eastern. In this session you'll hear from Robert Zellem, the Project Lead for Exoplanet Watch, a citizen science project where you can help NASA observe other worlds by analyzing & contributing YOUR data (from your own small telescope, or from DIY Planet Search)
The three sessions together form a learning pathway for discovery and deepening engagement in this exciting field of astronomy. The resources you will explore in this series are appropriate for learners ages 12 to 100+ in free-choice learning settings or in formal or informal education environments.
Register once online to participate in all three sessions. REGISTER HERE.
---
Click here for a sharable article about Exoplanet Watch. Learn about the project and tell your friends about it. Get involved in real hands-on science studying planets beyond our solar system.
NASA's Universe of Learning's Exoplanet Watch is a citizen science project for amateur astronomers, astronomy students at colleges and universities, high school students, and citizen scientists to observe transiting exoplanets — planets outside our solar system — with small telescopes. The project is open to anyone who wants to participate, whether or not you have a background in astronomy. We want to make this project as engaging as possible, and we welcome your suggestions for improvement.
A transiting exoplanet is a planet outside of our solar system that periodically passes in front of its host star as it orbits, causing the star to appear to slightly dim (typically by around 1%). Observing exoplanet transits is important to astronomers, since transits provide direct measurement of a planet's radius (how big the planet is) and composition (what the planet is made of). Ground-based observations, particularly with small telescopes (less than 3 feet or 1 meter) constrain the exoplanet's orbital period (how quickly a planet orbits around its host star) which in turn provides better mass measurements. Exoplanet Watch will help increase the efficiency of exoplanet studies by large telescopes to characterize exoplanet atmospheres by reducing uncertainty about the predicted timing of transit events.
Did you know that by looking at the shape of an exoplanet's light curve, you can tell whether or not the planet has an atmosphere? Even without seeing the planet directly, you can tell whether it's a rocky planet or a gas giant.
With your help, Exoplanet Watch will:
Make the best use of larger telescopes — more accurately predict the next transit event for follow-up with space-based telescopes (e.g., the Hubble Space Telescope and the James Webb Space Telescope) or large ground-based telescopes
Discover new exoplanets — using transit timing variations to infer the existence of an additional exoplanet in a extrasolar system
Monitor stellar variability — changes in a star's brightness caused by spots (dark regions) and plages (bright regions) of an exoplanet's host star can be measured
Confirm new exoplanets — can help confirm newly discovered exoplanets
Wait, what? I can help discover new exoplanets? Sounds great! How to I participate?
As an Exoplanet Watch citizen scientist, you will:
Observe transiting exoplanets, or request data from other people's telescopes. (Soon we'll have observations of the night sky that you can turn into light curves, so having your own telescope will be optional.)
Reduce and anlayze your data, using our free EXOTIC software, to create your own transiting exoplanet light curves
Upload your results to the American Association of Variable Star Observers (AAVSO) Exoplanet Database
Your data will be shared with the professional astronomers who study exoplanets. Your light curve will be included on Exoplanet Watch's Results webpage
If your observations or light curves are used in a scientific paper, your name will be listed as a co-author on the paper, and you will get credit for participating in scientific research
Learn how science is done from beginning to end, collecting data, processing it, sharing it, and reading papers that incorporate it
Meet astronomers who study exoplanets professionally and collaborate with other citizen scientists in our bi-weekly meetings and on our Slack. Slack is a free messaging app that is the primary way the Exoplanet Watch team and community keeps in touch with each other to help make this project a success. All are welcome and encouraged to join!
Subscribe to our free Monthly Newsletters, which include exoplanets to observe, new project features, information on topics that will be covered in our bi-weekly meetings, a featured member of the month and astrophoto of the month, and links to exoplanet resources.
If you have questions, our Frequently Asked Questions page may have the answer you're looking for. If not, feel free to ask questions on our Slack or email us at exopalnetwatch@jpl.nasa.gov
We're always open to suggestions on how to make Exoplanet Watch a more interactive and inclusive project and community.
---
NASA's Universe of Learning materials are based upon work supported by NASA under award number NNX16AC65A to the Space Telescope Science Institute, working in partnership with Caltech/IPAC, Center for Astrophysics | Harvard & Smithsonian, and the Jet Propulsion Laboratory.
---
This project complies with the Paper Reduction Act via Office of Management and Budget Control Number 2700-0168.

Subscribe to the Exoplanet Watch Monthly Newsletter here: