Exoplanet Watch promotes a welcoming and inclusive community. Exoplanet Watch is for anyone and everyone.
There are over 685 people on our Slack. Come join the conversation! Email exoplanetwatch@jpl.nasa.gov if you have questions about how to get involved.
Want to be a part of new scientific discoveries? Want to engage in the Exoplanet Watch community?
Getting involved is easier than ever! If you are new to Exoplanet Watch, we recommend you follow this New User Checklist.
Invite your friends! (Share your progress with family and friends!)
You can be involved as much as you like, whether reducing your own data or simply learning more about Exoplanet Watch
NO PRIOR KNOWLEDGE NEEDED
NO TELESCOPE NEEDED!

We are working on developing a framework to get robotic telescope data and time to those users without a telescope (or who live in cloudy or light polluted locations!)

Stay in touch with the rest of the Exoplanet Watch community by joining our Slack Workspace

Slack, a free messaging app, is the primary way that the Exoplanet Watch team and community keeps in touch with each other to help make this project a success. All are welcome and encouraged to join! Ask questions, get answers, request data to analyze, see beautiful astrophotography from some of our participants, and more.

Participate in the American Association of Variable Star Observers (AAVSO) Exoplanet Section Forum
---
Exoplanet Watch Community Highlight​s
Member of the Month
In every Exoplanet Watch Monthly Newsletter, we highlight a "Member of the Month". If you are interested in nominating yourself or someone else, please email us at exoplanetwatch@jpl.nasa.gov. To sign up for the Monthly Newsletters, please follow the instructions here.
Kalée Tock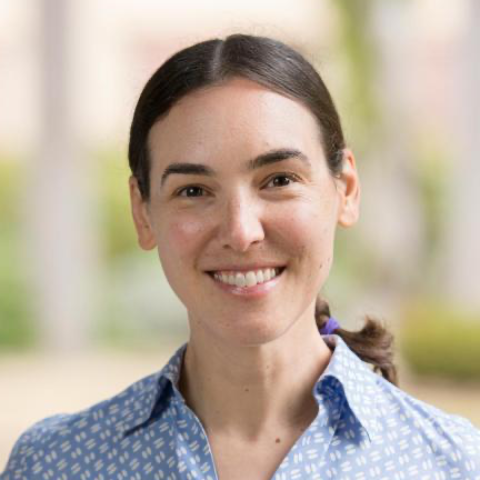 What is your current occupation?
I''m a science instructor at Stanford Online High School
What kind of telescope do you have, and/or which remote telescope(s) are you using to observe exoplanets?
I do not have my own telescope capable of observing exoplanets, but my students and I use several networks and colleagues' telescopes remotely: Las Cumbres Global Telescope Network, Skynet Robotic Telescope Network, Harvard-Smithsonian MicroObservatory, Boyce-Astro Research Observatory, Dixon-Astro Research Observatory, the Fairborn Institute Observatory, and an 0.4m and 1m telescope in Chile that are occasionally made available for student research through the generous support of PlaneWave Instruments.
What inspires you about studying exoplanets?
I have plentiful sources of inspiration in my amazing students and colleagues at Stanford Online High School. SOHS students are bold, tenacious, brilliant, funny, and surprising. Every spring, I plunge into the astronomy research abyss with them. Our journey is never smooth, but it is always immensely rewarding. We are grateful for the warm and welcoming Exoplanet Watch community, where we can count prompt and patient explanations to our numerous questions.
How did you get started studying exoplanets?
About 10 years ago, I started teaching general science and Honors Chemistry at Stanford Online High School. My background is in physical chemistry, so chemistry and physics were a natural fit, but I've always had a recreational interest in the stars. At staff meetings, I kept saying: "If English gets to have eclectic classes like Film Studies, Science should get to have eclectic classes like Astronomy." About 7 years ago, my division head told me to stop complaining and put my money where my mouth was. This was the beginning of an intellectual odyssey that taken me to strange and beautiful places I never could have imagined.
When I was young, I did not think of myself as a "science person". In fact, I wanted to be a minister. I kept taking religious studies classes well into college, even as the alluring symmetry of transition metal d-orbitals began to seduce me away from theology. However, I believe that science in general, and astronomy in particular, scratches the same Itch to ask Big Questions that brings people to church. So, I have fulfilled my childhood ambition, even though my "ministry" is not at all what I would have originally envisioned. Learning and teaching about how the Universe began (or didn't), or what the implications would be if we were to find evidence of life on an exoplanet, strays unavoidably into philosophical territory!
I now teach two very different astronomy classes. The first course is Astrobiology, in which we ask Big Questions that we can't answer definitively. ("Why are we here?" "How will we colonize the solar system?") The second is Astrophysics, in which we ask smaller questions that we can and do answer using math ("How is Star A moving relative to Star B?"). The two courses scratch the Itch in different ways, but straddling both is one Big Philosophical Question that touches on several smaller, math-ier questions: "Are We Alone?" Our desire to help answer that question brings my students and me to the study of exoplanets. We are excited to join the EXOTIC hunt for fellow voyagers through this crazy Universe of time and space, which involves ontological stamina, specialized software, and telescopes of all descriptions!
What else would you like us to know about you?
I have a wonderful family that includes my husband Theron, sons Ezra and Ryan, and daughter Willow!
---
Astrophoto of the Month
In every Exoplanet Watch Monthly Newsletter, we highlight an "Astrophoto of the Month" taken by one of our members. If you are interested in having one of your images highlighted, please email us at exoplanetwatch@jpl.nasa.gov. To sign up for the Monthly Newsletters, please follow the instructions here.
If you have any photos you would like to share with the Exoplanet Watch team, post them on our #astrophotography Slack channel. We would love to see them!
Eta Carinae by Julio Vannini
Julio Vannini captured this beautiful image of Eta Carinae, which was the subject of the Summer 2022 AstroPhoto Challenge.
Post your astrophotography on our Slack channel, and it may be selected to be featured in our newsletter and on our website.