News
| August 24, 2022
Webb Sees Carbon Dioxide in Exoplanet's Atmosphere
After years of preparation and anticipation, exoplanet researchers are ecstatic. NASA's James Webb Space Telescope has captured an astonishingly detailed rainbow of near-infrared starlight filtered through the atmosphere of a hot gas giant 700 light-years away. The transmission spectrum of exoplanet WASP-39 b, based on a single set of measurements made using Webb's Near-Infrared Spectrograph and analyzed by dozens of scientists, represents a hat trick of firsts: Webb's first official scientific observation of an exoplanet; the first detailed exoplanet spectrum covering this range of near-infrared colors; and the first indisputable evidence for carbon dioxide in the atmosphere of a planet orbiting a distant star. The results are indicative of Webb's ability to spot key molecules like carbon dioxide in a wide variety of exoplanets – including smaller, cooler, rocky planets – providing insights into the composition, formation, and evolution of planets across the galaxy.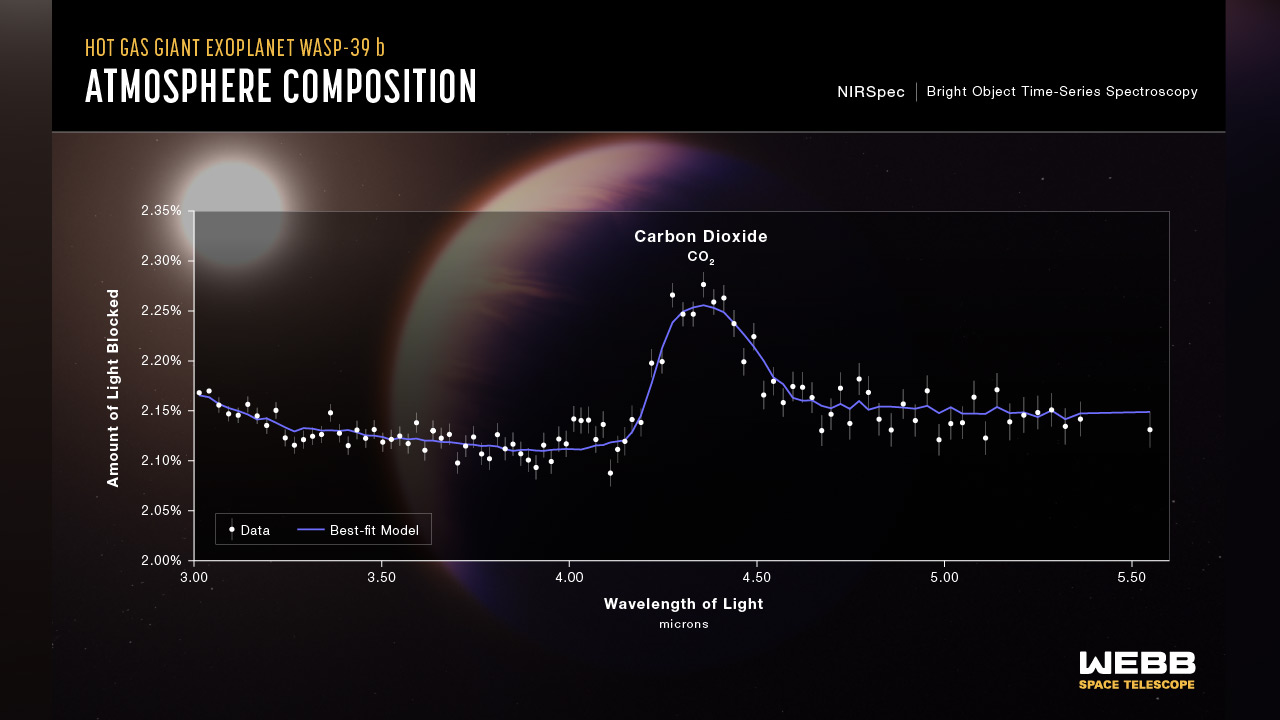 NASA's James Webb Space Telescope has captured the first clear evidence for carbon dioxide in the atmosphere of a planet outside the solar system. This observation of a gas giant planet orbiting a Sun-like star 700 light-years away provides important insights into the composition and formation of the planet. The finding, which is accepted for publication in Nature, is also indicative of Webb's unique ability to detect and measure carbon dioxide in the thinner atmospheres of smaller, rocky planets.
WASP-39 b is a hot gas giant with a mass roughly one-quarter that of Jupiter (about the same as Saturn) and a diameter 1.3 times greater than Jupiter. Its extreme puffiness is related in part to its high temperature (about 1,600 degrees Fahrenheit or 900 degrees Celsius). Unlike the cooler, more compact gas giants in our solar system, WASP-39 b orbits very close to its star – only about one-eighth the distance between the Sun and Mercury – completing one circuit in just over four Earth-days. The planet's discovery, reported in 2011, was made based on ground-based detections of the subtle, periodic dimming of light from its host star as the planet transits, or passes in front of the star.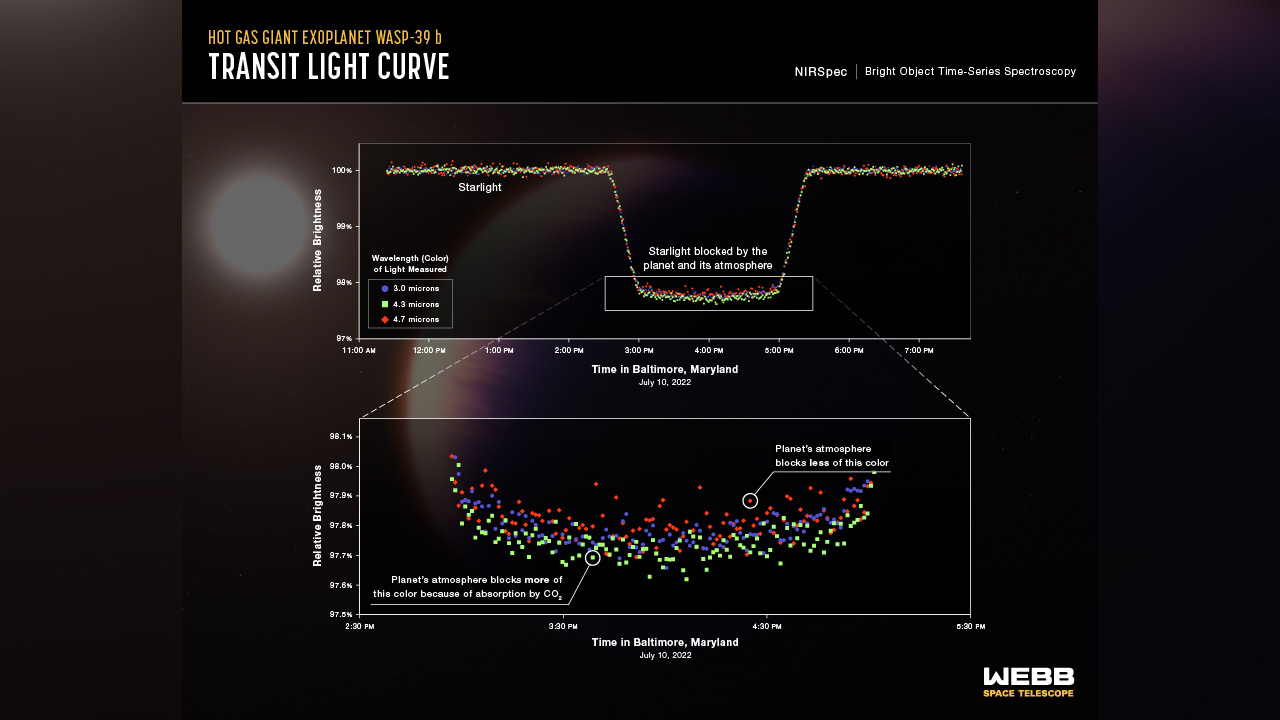 Previous observations from other telescopes, including NASA's Hubble and Spitzer space telescopes, revealed the presence of water vapor, sodium, and potassium in the planet's atmosphere. Webb's unmatched infrared sensitivity has now confirmed the presence of carbon dioxide on this planet as well.