News
| February 9, 2017
JPL rolls out the red carpet for 'Baby Kepler'
Baby Kepler fixed a wide-eyed gaze on the stream of data flowing down from space—a display, part sculpture and part computer readout, in the lobby of the NASA Jet Propulsion Laboratory's administration building.
Just shy of his first birthday, Kepler—along with his parents, Christine and Jerin Cloutier—had been invited on a tour of JPL by Exoplanet Exploration Program Manager Gary Blackwood. The Cloutiers ran into Blackwood during Astronomy Week in Pasadena in October, and Blackwood was delighted: The Cloutiers said they named their little boy, stylish in his own tiny spacesuit, after both the Kepler Space Telescope and the 17th century astronomer, Johannes Kepler. They spoke of their love for exoplanets.
Three months later, Baby Kepler took his grand (stroller) tour of the lab, hardly fussing during the entire two-hour visit. His father thought the highlight was a personal tour of JPL Mission Control, courtesy of Flight Operations Engineer James McClure.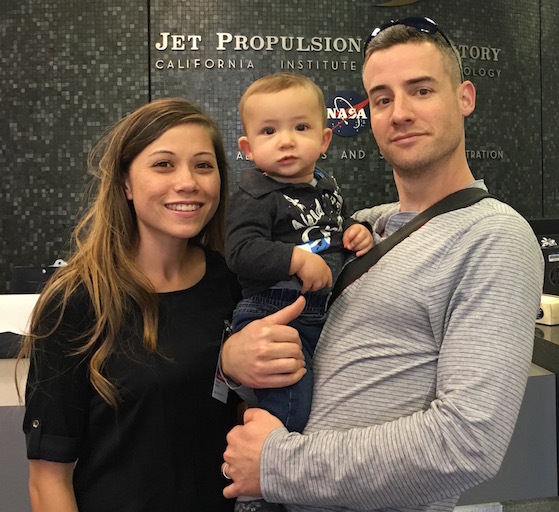 The Cloutiers, who live in Glendale, also stopped by the von Karman Museum and the Exoplanet Exploration Office, where they met several exoplanet scientists. Kepler's face lit up when he was placed on the floor amid a crowd of "Celestial Buddies," plush, personified toys that look like the planets of the solar system. Blackwood and Steve Howell, the former Kepler Space Telescope project scientist who was on hand for the occasion, posed for photos with young Kepler and his buddies. He received his own "Mars" buddy as a parting gift.
But for his mother, Christine, the highlight was watching Kepler's face as he stared at the data sculpture in the administration building lobby. Signals beaming down from space probes scattered across the solar system are translated, in near-real time, to streams of light raining down through metal rods into the floor of the display; signals from Mission Control back to the space probes are shown as light flowing up through the rods toward the heavens. It's mesmerizing, even for adults.
Kepler and his parents made a number of new friends that day. And they made a bit of a splash at JPL.